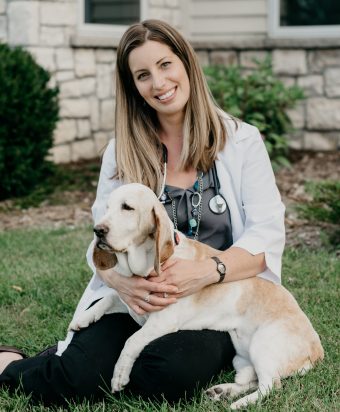 Graduated from the University of Wisconsin – School of Veterinary Medicine in 2012
Although Dr. Christina was born in Illinois, she has always considered herself a Wisconsin native. She grew up with her mother and older sister in the Milwaukee area, primarily in West Allis. When she was ten years old she started volunteering at the Wisconsin Humane Society. She also attended multiple summer camps devoted to animal behavior and veterinary medicine which planted the seed of her future career choice.
Even though there was never a question as to whether or not she wanted to work with animals, she had yet to discover in what way. Her decision to become a veterinarian didn't occur until she was an undergraduate at University of Wisconsin, Madison, and found her anatomy course both engaging and challenging.
Prior to entering Vet School, Dr. Christina gained experience working as a veterinary technician at a clinic in Brookfield, Wisconsin, and rehabilitating wildlife at the Wisconsin Humane Society. She continued to work as a vet tech throughout vet school and took advantage of every opportunity to perform elective surgeries to improve her skills. Since graduating in 2012 from Madison, she has volunteered as a surgeon at the Humane Welfare Society (HAWS), worked with a board-certified ophthalmologist, and worked as an Associate Veterinarian in the Racine/Caledonia area. We feel very fortunate to have her join our team in June of 2016.
Dr. Christina loves being an advocate for animals, giving a voice to those who don't have one. For her, every day brings a new adventure and something new to learn. She feels fortunate to witness the complexity of the human-animal bond. The selfless acts of owners and the deep love for their pets is truly inspiring, something she feels lucky to be a part of.
Her husband, Sean, is her best friend and house comedian. Together they enjoy travel, experiencing new cultures and food. They recently visited Ireland, and are planning their next European adventure. They both love to cook, and Dr. Christina's garden provides them with the ingredients for dilly beans, pickles and salsa. In the summer, Dr. Christina enjoys camping and going on walks. When the seasons change, she loves reading, watching funny movies, cheering on the Packers and cooking new recipes, especially soups and stews.
They have three furry children. Day-Z, a basset hound mix who, in Dr. Christina's biased opinion, is one of the cutest and sweetest dogs around. Her cuteness lets her get away with almost anything and she loves to test her limits. One of her favorite activities is "snooping" in the backyard for anything edible, especially buried peanuts. Gus and Ernest are a bonded pair of domestic long-hair cats, adopted in the summer of 2016. Ernest is a high-flying aerialist and trouble-maker and Gus is a ham for attention and loves to curl up in the sunshine for a long nap.